Lately I have been trying to spend more time drawing. I used to draw alllll the time - and I kind of lost it once I graduated from college. I doodle at work, but its not the same. When I was younger I primarily drew people in outfits. I LOVED coming up with outfits and stories. As I got older I dabbled more in pattern and design...and cats.
Anyway, as I try to find my lost artist, I decided to make a list of all the things that once inspired my inner Bob Ross.

Ed Emberly
I was introduced to Emberly by my younger cousins, Eddie and Alan. Actually, I couldn't remember the name of the author of these books, so messaged Ed and asked him if he remembered the name of the guy who drew the round heads. It took us a minute to find him on the Internet, and we were laughing that if we were at the Shrewsbury Public Library we could find the books in a second...Ed said looking at the image of the the
Big Green Book
cover reminded him of the smell of the library. I highly recommend this book for all ages.
Draw 50 Animals
I received this book when I was 6 or 7 years old. I never mastered the steps - Ames made it look so easy! All I ever wanted to do was draw a tiger like in the book ... maybe I should grab this next time I go home to my parents' house. You can view part of the book on Google Books by
clicking here
.
Sol Lewitt
I think I was first introduced to Lewitt back in 2000 when I first moved to NYC. I didn't have many friends and was going to
Hunter College
. The
Whitney Musuem
was close by and gave free admission to CUNY students so I spent a lot of time there. I love his exhibit at
DIA Beacon
. A lot of my doodles are similar to his work....uh, except they're in pen on the margin of a notepad and look nothing like his work.
Richard Scary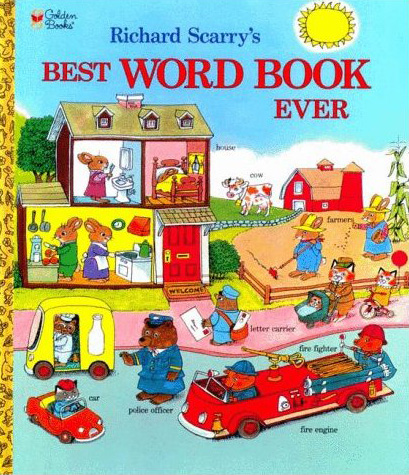 Oh man, his books were so magical! There was so much to look at on every page and always something new to find. I often tried to make blueprints of my dream houses and I wanted them to come out looking like Scary's illustrations. So awesome.